Administrator
Staff member
I am waiting for my Surface Pro 3 i7 512. In the meantime, I have received my
Surface Pro Type Cover
keyboard, the third generation (or fourth, depending on how you count the Power Cover) of the detachable keyboard for the Microsoft Surface.
I've tried / owned them all. But the
Surface Pro Type Cover
keyboard has finally become just what I needed, so I cannot tolerate the other keyboards any longer, now that I've tried this one
I am using this keyboard on my Surface Pro 2, though it is oversized, since it is made to cover the SP3. I don't care how it looks, this is the keyboard I have been waiting for:
- Trackpad surface is slick, larger, and more responsive.
- Larger footprint is more comfortable to my hands - not falling off the edges
- Keys are soft-textured, have good motion, and are backlit
I liked this one so much, I bought a black one, too. Here's a side story: I had the black one in the trunk of my car last week. In the heat, a bottle of hair conditioner started leaking, and saturated my new black
Surface Pro Type Cover
keyboard. Several times, I did rinse/repeat in the kitchen sink to try and save it. After the rinses, drying with paper towels, and rapping the keyboard against the palm of my hand to fling excess water from it, I let it dry for about 20 minutes in the sunshine. Works perfectly. Thanks, Microsoft.
.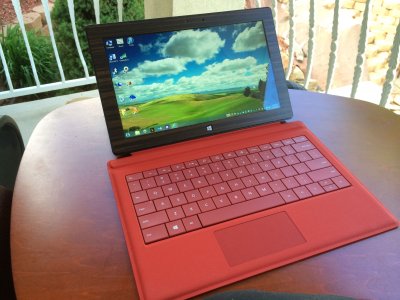 Last edited: